Top Prescription Drugs Purchases and Trends of 2016
Nearly half of all Americans take at least one prescription drug each day, according to the Centers for Disease Control and Prevention (CDC), and the cost of many of the most popular and most important medications is rising.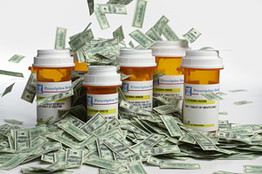 The Price for Prescription Drugs is Rising
Each of the past three years have seen double-digit price increases, including average rises of 12.6 percent in 2014 and over 10 percent in 2015. The average price for prescription drugs has increased an average of 10 percent in the past year. Despite pushback from insurers, scrutiny from lawmakers and outcry from consumers, many pharmaceutical companies plan to increase the price of prescription drugs.
Prescription drug spending in the United States totaled about $457 billion in 2015, according to the U.S. Department of Health and Human Services (HHS), accounting for 16.7 percent of all U.S. health care spending. In the 1990s, only about 7 percent of health care spending went towards prescription drugs.
A Wall Street Journal analysis found that prices for 30 prescription drugs increased at eight times the rate of inflation, with an average price hike of 76 percent from 2010 to 2014. Retail prices for some commonly used prescription drugs increased faster than general inflation each year from 2006 to 2013, according to AARP, which translates into an annual cost of therapy of more than $11,000 for a consumer who takes a prescription medication regularly. The total was nearly three-quarters of the average Social Security retirement benefit of $15,526, almost half the median income of a person on Medicare, and nearly one-fifth of the median U.S. household income.
Most Common Prescriptions and Average Cost by State
SearchRx compiled a list of the average costs of prescription drugs by state. At an average price of $12.82 per prescription, Mississippi tops the list as the US state with the lowest average per prescription cost. Arkansas was also low at $12.93, followed by Virginia at $13.90 and Louisiana at $13.10. Hawaii was the most expensive state to fill a prescription, at an average of $19.47, followed by North Dakota at $19.07, Alaska at $18.96 per prescription, and Delaware at $18.51.
The website also lists the most commonly prescribed medications last year:
1. Atorvastatin Calcium (generic for Lipitor) – lowers cholesterol and reduces risk of heart attack, stroke, and other complications in patients with type 2 diabetes, coronary heart disease, or other risk factors
2. Levothyroxine (generic for Synthroid) – primary use is for the treatment of hypothyroidism but it is also used to treat or prevent goiter
3. Lisinopril (generic for Prinivil) – for hypertension or congestive heart failure
4. Omeprazole (generic for Prilosec) – treats symptoms of GERD
5. Metformin (generic for Glucophage) – improves blood sugar in patients with type 2 diabetes
6. Amlodipine (generic for Norvasc) – for hypertension or angina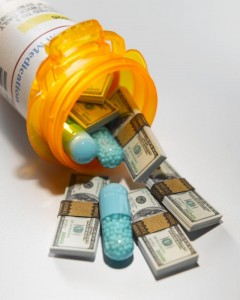 7. Simvastatin (generic for Zocor) – lowers cholesterol and triglycerides
8. Hydrocodone/Acetaminophen (generic for Lortab) – relieves moderate to moderately severe pain
9. Metoprolol ER (generic for Toprol XL) – treats angina and hypertension
10. Losartan (generic for Cozaar) – treats hypertension and reduces the risk of stroke in those with heart disease
SearchRx also ranked pharmacy chains in order of least expensive to most expensive. Walmart was the least expensive, followed by Target, "other," Rite Aid, and CVS. Walgreens was the most expensive on the list.
If current trends continue, 2017 will see higher prescription prices, increased health premiums, and continued increases in the number of Americans who take prescription drugs every day.
Source
http://www.cdc.gov/nchs/fastats/drug-use-therapeutic.htm
https://www.washingtonpost.com/news/to-your-health/wp/2016/01/11/prescription-drug-prices-jumped-more-than-10-percent-in-2015/
http://time.com/money/4406167/prescription-drug-prices-increase-why/
https://aspe.hhs.gov/pdf-report/observations-trends-prescription-drug-spending
http://www.wsj.com/articles/for-prescription-drug-makers-price-increases-drive-revenue-1444096750
http://www.aarp.org/content/dam/aarp/ppi/2016-02/RX-Price-Watch-Trends-in-Retail-Prices-Prescription-Drugs-Widely-Used-by-Older-Americans.pdf
https://www.searchrx.com/blog/2016-prescription-prices-and-purchase-trends/
North Andover, Massachusetts
This column of posts is directed at the Healthcare Industry.  Frank plans to release a new site dedicated to the industry.  He currently assists companies who are building, restructuring, transforming and resurrecting there business's. An example of his client base are, Xenetic Biosciences , IPC Medical Corp, Just Fellowship Corp, Environmental Services Inc., Parsons Post House LLC, ClickStream Corporation as well as having a business talk radio show; The Business Architect on the URBN network.